Buying Your First Home in Phoenix Arizona Part 4 - Shopping for Your Home and Making the Offer!
In Part 1 of Buying Your First Home, you discovered why buying a home is the right choice for you. In Part 2, we discussed how to hire the perfect agent. In Part 3, we learned why it is so imperative to get pre-approved for your loan BEFORE you go out shopping for your first home. Now, we're ready to go shopping and make an offer!
Types of homes
The first place to start is by determining the type of home you want to buy. Housing falls into several
different categories, most notably: single-family homes, townhouses, and condominiums. Each of these has its own set of advantages and disadvantages. You may find that one is much better suited to your budget and lifestyle than another. Also, depending on your location, you may find more choices of one particular type of home than others.
Lots of considerations will probably go into your decision about which home to purchase. Some of these might include the neighborhood, schools, lifestyle, location, and proximity to transportation. Your agent will help you decide what makes the most sense for your situation. She/he will know how to pose just the right questions to help you think through this important choice. A good, experienced agent has more than likely guided many previous buyers through this decision-making process and knows how to gently direct you to make sure you arrive at the best decision for YOU.
Rolling Top 3
Compare and evaluate homes - and choose YOUR home
Say your agent has found 6 properties she believes may work for you. She's really good, and the first house you visit seems absolutely perfect ... but she's also smart, so she wants you to look at a few other comparable properties, just to be sure. What happens, then, when you see Home #2 and it seems perfect? No problem. Your goal is to keep a mental tally of your favorite 3 houses out of all the ones your REALTOR® shows you. You now like the second house more than the first one, so the first house simply slides into the second spot on your mental scorecard. You've now seen two homes and have ranked them #1 and #2. (See the chart below.)
Then you head to the third house - and instantly know it's not going to work for you. Do you add that to your list as Home #3? No!! Why not? You just said it wasn't going to work for you, right? Then why put it on the list of homes you're considering? So now you've seen three houses, and have two of them ranked #1 and #2.
You visit the fourth house, and it doesn't do much for you either. So, you still have two homes ranked at #1 and #2.
Then you see the fifth house. This one is beautiful. It feels good. You think it might be THE ONE. Immediately, you rank it #1. As a result, the previous homes you'd ranked #1 and #2 each slide down a spot to become #2 and #3, respectively.
You then finish out the tour and go visit the sixth house. It's quite nice - just as nice as the house you've now got in the #2 spot . . . but it's a little closer to your wife's job than the other house. It's not quite as nice as the house in your #1 spot, but the better travel distance means this house now becomes #2 as it knocks the former #2 down to the #3 spot.
That's the Rolling Top 3. Regardless of the number of houses you see, you're always ranking only the Top 3 in your head.
Write the offer and purchase contract
Now that you've found the home of your dreams in the right area of town and at almost the right price - what's the next step?
First, your REALTOR® will write an offer contract on the specific form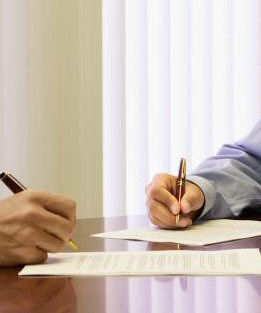 utilized in your state. Your offer to purchase the home will include the following information:
The total amount you are offering for purchase
The amount of your down payment
The amount of your loan
The date you want to close
Whether or not you will require a home inspection
Items you expect to be included with the home, if any, such as light the refrigerator, washer, and dryer
The contract is not considered valid until the seller accepts your offer and signs it. The offer to purchase includes "good faith money." This is generally a check for an amount from $1,000 to $3,000, which is deposited in escrow after acceptance of the contract. This good faith payment shows that you are so serious about the offer you are making that you have already put money down on the house.
Once the offer is written, your real estate agent will present it for you to the seller. I normally talk with the listing agent about the client (buyer) and write a personal letter on their behalf that the listing agent will present to the seller. This helps create an emotional connection between the seller and buyer, which is a nice touch that can sometimes make a difference when more than one buyer is bidding on a particular home.
Regardless of how well your agent negotiates for you, there's always the possibility that the seller may reject your initial offer. And thus begins the negotiation process. Negotiating the price of your home is perhaps the most intimidating part of the process for a first-time home buyer. How do you know for sure you are getting the best price for your new home?
There are three significant places to negotiate the price of your home: the price itself, the terms and conditions, and the closing date. The following tips will help put you in control of the negotiating process while still creating a win/win situation for yourself and the seller:
Look at several similar houses before making an offer
The best way to get a realistic idea of what houses in your area are selling for is to look at the Comparative Market Analysis (CMA) your agent has prepared. The CMA is developed by your agent to compare similar properties in the same general neighborhood and is an essential tool when attempting to determine the market value of a specific home. The more research you do on homes that have recently sold in the area where you want to buy, the better informed you will be when you come across the house you want to purchase.
Weigh your comparables by asking questions like these:
How long was the house on the market? Generally, the longer a house stays on the market, the lower the purchase price. A house similar to yours may have gone for a higher price if it was on the market a shorter time.
How similar are the houses being compared? Compare things like square footage, renovations, and even locations.
What was the difference between the list price and the purchase price? Perhaps houses in the area sold for an average of $5000 below asking price. This could help determine your starting offer.
Offer less than the asking price
In a nomal market most houses sell for less than the asking price, so in general, you can ask for about 5 percent less than
the listed price. Always ask for a bigger discount than you are willing to pay. Often, negotiations end up right between the asking price and the first offer because you left yourself some room to come back up.
Choose your battles carefully, but remember that you have more leverage if you have more points to negotiate. If there is only a single point to negotiate over, someone must concede, or lose. Multiple items for negotiation mean each party has room to win.
If you have only one issue that you feel strongly about, offer two others as part of your offer. The seller has no idea you only want one of the three. You now have two items to concede to the seller, making them feel they got the best end of deal (i.e., you asked for three items and only got one). But you got the thing you wanted! This is all part of a win/win negotiation.
Put yourself in the seller's shoes
Understanding the needs of the seller will help you determine how aggressively to negotiate the best price for your home. Here are some tips to identify a likely eager seller:
The house has been on the market for more than six months
The house has been vacated
The seller is divorcing, relocating for work, or has passed away and the estate wants to sell the property
The price of the house has been reduced or is listed as "priced to sell"
The seller recently had an offer fall through
Keep your expectations realistic and aim for the WIN/WIN!
Keep in mind that even in a great buyers' market, you do not want to lose your first home because you were unrealistic. Remember to think - and negotiate - with your head! Your goal is to buy a home at the best possible price. Know what you can afford, and trust your agent. Follow your agent's advice about what a reasonable offer looks like, and stay within your predetermined range of what you can reasonably afford.
Do everything in your power to create a win/win situation for yourself and the seller. Things will go more smoothly if everyone is happy with the transaction. A good negotiator always leaves the other party thinking they won the negotiation. Negotiating the price of a home takes patience. Be prepared to make several counteroffers before you finally reach agreement on the price. And don't be afraid to walk away if you feel the seller is asking too much.
Buying Your First Home in Phoenix Arizona Part 4

  



 

 

Anna "Banana" Kruchten
Designated Broker & Owner
CRB, CRS, GRI, CNE, SFR, CDPE, WLS



 

Connect with me also on these sites!

 

 
                   Your Referrals & Testimonials Are Greatly Appreciated!